Upbeat: Selected Early Poems 1969-1987
by Margaret Webb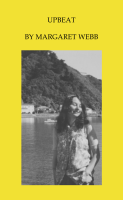 Upbeat, a selection from the early poetry of Margaret Webb, is a period gem. The title conjures literary and music associations i.e. the howl of the Beat Generation and the jazz, folk and rock music of the 1960s/1970s.
Margaret dedicates this volume to her generation, and it is a record of her youth and beginnings as a poet: self-taught and free-wheeling. It covers her life from age 13 (1969) to age 31 (1987). Her authentic experience in these years included coffee bars, a variety of work experience, study, cafes, hitchhiking, communes, protests, a yoga ashram, love relationships and the music scene.
This is the second book of Margaret's poetry. The first, Flight Paths by Margaret Jeune (her later name), contains much of her poetry written after Upbeat.
"...she sets out her life and shares it in a way that will resonate with anyone who observes and recognizes the value of people, places and everyday occurrences." - Gill Ward
"good solid images of urban and rural New Zealand mixed with a quirky sense of humour." - Tony Chad