It's Love, Isn't It? The Love Poems
by Alistair Te Ariki Campbell & Meg Campbell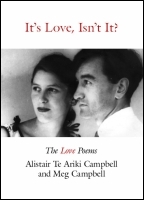 Poet Meg Campbell, not long before she died, expressed the wish to be published with her husband, Alistair Te Ariki Campbell, in a joint collection of their poems. Sadly, she died before this could be accomplished.
Campbell has now carried out her wish with this striking and unusual collection of love poems, mainly from the exacting early and middle years of their marriage. Tested by mental illness, infidelity, doubt, and independence, their love remained strong to the end.
Campbell has matched the love poems, his and hers, which appear on facing pages throughout the book. The result is never less than cogent and illuminating. If you like poems that are frank, direct and passionate, this is the book for you.