Four French Horns
by Jenny Powell-Chalmers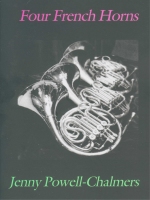 Four French Horns is Jenny Powell-Chalmers fourth collection of poems following her earlier books Sweet Banana Wax Peppers, Hats and Double Jointed.
This new book continues the development of her unique poetic centred around the imaginal world, her family-life and Southern landscapes.
Frequently inventive and painterly in their impressions of place, Four French Horns underlines a musical melody in the poet's pen that is continuing to sound out fresh notes in New Zealand poetry.
Jenny Powell-Chalmers lives in Dunedin.