Sweet Banana Wax Peppers
by Jenny Powell-Chalmers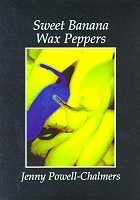 Sweet Banana Wax Peppers is the stunning debut collection of poems by Dunedin poet, Jenny Powell-Chalmers.
It consists of four sections: the first deals with personal and domestic themes, including the birth of her son; the second considers the theme of love; the third shows an interest in modern and contemporary art; and the last section reveals the disturbing and painful experience of mental illness.
Abstract, surreal, vivid - and at once striking, it shows a writer of considerable originality and promise.
'Sweet Banana Wax Peppers is an important publication . . . for Dunedin poetry generally. It announces the emergence of a careful, talented writer.' - Critic