World Words: An Anthology of International Writers in New Zealand
Edited by T M Schaefer. Assistant Editors: Kevin Cudby, Catherine Boyle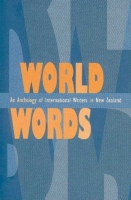 World Words is a collection of multicultural writings by the Wellington writers' group Writers International, the first multi-ethnic writers' group. Contributors include new and established poets and fiction writers: T M Schaefer, Kevin Cudby, Riemke Ensing, Mark Pirie, Ron Riddell, L E Scott, Yilma Tafere Tasew, Basim Furat, Rosalie Carey, Puri Alvarez, Mavis Boyd and others.
"Right from the start it was clear that Writers International would be an inclusive, idiosyncratic group ... To date, writers from Australia, Chile, China, Colombia, Ethiopia, Germany, Hong Kong, Hungary, India, Indonesia, Iran, Iraq, Israel, Liberia, New Zealand, Spain, the Sudan, the UK and the USA have been involved. Not all of our members are represented in this anthology." - Susan Pearce, from the Introduction
"We approached the editing of this anthology, as anyone approaches a new task, with certain expectations. It was only when we found ourselves surprised and delighted by the stories and poems we were reading, that we recognised the kind of preconceptions we had brought to the task. It was hard to believe it, but we were expecting that a writer from a particular cultural background would write a particular kind of story in a particular kind of style. How delightful to be wrong! To discover that every writer has a unique style, that their themes and subject matter, though occasionally tinged with cultural influences, are more, far more, than mere reflections of their cultural backgrounds." - From the Editors' Preface