Viet Nam: A Poem Journey
by Jenny Powell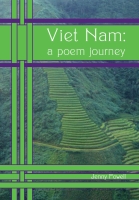 "Is it possible to love a country you have never been to? Is it possible to visit a country in your imagination?" so Jenny Powell writes in her introduction to her latest collection of poems, Viet Nam.
Jenny's poems map the country, people and places of Viet Nam. It forms a cultural and literary bridge between the country Viet Nam and the visit to New Zealand of a Vietnamese music teacher, Hao, who lived with Jenny during his stay in New Zealand.
Viet Nam is an evocative, colourful and imaginative journey that confirms in her work the power of the imaginal world.
"Jenny Powell has written a strong and vivid book that covers many nuances and facets of Vietnamese peoples' lives and reaches out to the people of Viet Nam with real empathy and heart, bridging the two cultures of New Zealand and Viet Nam. Viet Nam's very success is that its many single units form a cohesive whole and, in turn, becomes a love song for the place and the people who live there." - Mark Pirie