Summer on the Côte d'Azur
by Alistair Paterson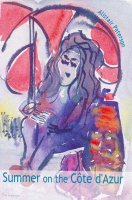 This is Alistair Paterson's first collection since the 1980s and is a significant addition to his body of work. It presents poems written between 1987 and 2003. Strongly influenced by wide reading and the poetry he's received as editor of Poetry NZ, it contains poems connecting traditional and postmodern writing and occasionally reflecting some of the characteristics of semiotics. Part I offers reports of encounters with the famous American poets Robert Bly and Howard Nemerov together with poems of social and political observation such as the title poem, 'Summer on the Côte d'Azur'.
Part II links the hard-headed realism of the contemporary world with traditionally Romantic themes as offered in three linked sonnets on the 11th and 12th century lovers Abelard and Heloise. Mortality and the impermanence of life, which underly most of these witty, intense and often lyrical poems, are summarised in the collection's final piece, 'Nor'wester' - based on the mid-20th century painting of a similar name by the New Zealand painter, Bill Sutton.