Songs of the City
by MaryJane Thomson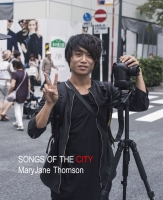 The poems in MaryJane Thomson's third collection, Songs of the City, continue to develop her highly original poetic since her first two collections Fallen Grace and Lonely Earth announced the arrival of an exciting new talent in New Zealand poetry.
Songs of the City features a mix of longer and shorter poems grouped by thematic links: Finding Your Light (Big Issue poems), Watch (faith and spiritual poems), Funny Sun Kissed Fantasy (love poems) and Conversations and Songs (music and letter poems).
Songs of the City explores contemporary issues and offers a generational assessment of a technologically driven world. With soul, energy and a probing mind, Thomson's is an alert and urgent voice.
"MaryJane Thomson has a raw unorthodox voice. You mightn't agree with everything she says in her poems but she certainly demands attention and makes the reader think. She is outspoken and direct and her poems range widely through contemporary life." - Fiona Kidman
Cover image: Original photo by MaryJane Thomson