Main Trunk Lines: Collected Railway Poems
by Michael O'Leary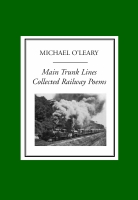 Michael O'Leary's new book is the first to collect his entire oeuvre of New Zealand railway poems.
Spanning over 30 years of his writing, it runs the length of the railway in Aotearoa and depicts many of the country's railway stations and towns.
The central poem of the book is O'Leary's sequence Station to Station, a cognac dedicated to the rock artist David Bowie.
Mark Pirie writes in the foreword: "Michael's poems take the reader on their own rail journey, stopping from station to station and recording the life and times of the people and places around them. But the train can also be a metaphor for life, the great journey we are all part of which encompasses both love and death. There's no stopping for long with Michael, as the next train arrives and the next journey awaits."
O'Leary's well-known love of all things rail led him to become a trustee for the Paekakariki Station Museum after he settled on the Kapiti Coast in the 1990s. He currently operates Kakariki Bookshop next to the Paekakariki Station Museum.
'I don't know of any living New Zealand writer who is a bigger railway enthusiast.' – Iain Sharp, Sunday Star-Times
Cover image: Photo by W W Stewart, A P Godber collection, Turnbull Library