Earth Colours
by L E Scott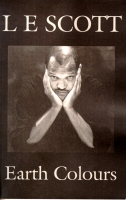 Earth Colours (which comes with a valuable critical preface by Mark Pirie) collects for the first time the very best of L E Scott's poetry from his 30-year career to date.
'L E SCOTT's poems have got soul. His poems are an African-American poet's testament - eloquent, urgent honest - to survival in the late twentieth century. They range in subject from the pervasive racism he experienced growing up in America, to coping with the trauma of having been a soldier during the Vietnam War, to the struggle for equality and justice in South Africa, to the problems and joys of ordinary life in New Zealand.

'Lewis Scott is a rider on the freedom train and his poems take us on his journey. His pointed, politically-charged language has a raw immediacy. It dances and sings with a staccato rhythm, an urban beat, a jazz lyricism. These are poems of autobiography, expressing an emotional intensity - grief, or anger, or wry acceptance. These are affirmative action poems. The story they tell revisits places of marginalisation, places of oppression, but the poems themselves speak out against intolerance with skill and often humour. They enlarge our understanding about colour consciousness.
'Scott writes about his battles, and about the ceasefire. He captures the feel of the moment, he lets the trumpet sound out. He brings us his vision and makes the earth's fugitive colours endure.' - David Eggleton
'L E SCOTT: a poet - inspired, stimulating and aware.' - Gwendolyn Brooks (Pulitzer Prize Winner)
'L E SCOTT writes powerful poetry that tears at the heart and opens the mind. He writes on a wide range of subjects using words to direct feelings and scenarios from war, love, death, hate to all the spaces in between. I highly recommend this book, like all of L E Scott's writing it's a treasure worth keeping.' - Apirana Taylor
'Thank you for the poetry.' - Nikki Giovanni