Dream Boat: Selected Poems
by Tony Beyer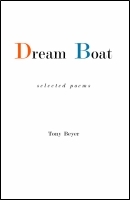 Dream Boat is the selected poems of Tony Beyer, a well-known and widely anthologized New Zealand poet.
The book presents a major selection of his poems from the 1970s to the new millennium. Since his first publication Jesus Hobo with Caveman Press in Dunedin in the 1970s, Beyer has chosen to publish his work through the small presses, and this book brings together for the first time a considerable body of his work with much of it being out-of-print and hard to find.
This book makes a significant and real addition to New Zealand poetry and is a must-have for any discerning reader's bookshelf.