Daymoon
by Robin Fry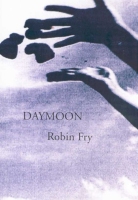 Daymoon is Robin Fry's second collection of poems.
This new book continues the development of her first collection.
Fry's poems are very wide-ranging. The poems can be poems of place, written for family and friends, poems about the garden as well as taking on the 'big' world issues of politics and social conditions affecting foreign places. There is warmth and humour evident in much of her writing and this book yields many gems for the reader.
"Weather Report is Fry at her best, the poet of place and memory, where she transforms nostalgia into a powerfully generative mode of poetic expression ... Weather Report is a delight to read and re-read with the growing knowledge that here is a considerable New Zealand poet who should be better known." - Patricia Prime, JAAM 19
"Her work has been as a broadcaster and editor and she writes with warmth and the sincerity of a true communicator. Whimsical ... or darkly dramatic ... homely, informative, but with some murky undercurrents and striking imagery." - Graeme Collins, Southern Ocean Review
"Robin Fry is a poet who has kept her eye and ear alive and alert to what's happening inside and outside the alphabet. What you see and what you hear is an assured voice and a sensibility to the ordinary things of the world that can transform them into moments of wonder and revelation. These are poems that are imagistic but that often have an in-built narrative sense and line of thought that demonstrates that the poems have, each one, their own story to explore." - Michael Harlow