A Clearer View of the Hinterland: Poems & Sequences 1981-2014
by Jack Ross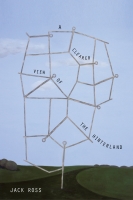 The first of the 33 poems and sequences reprinted here was written in 1981, the latest in 2014 - a time-lapse of thirty-three years. As Paula Green put it in 99 Ways into NZ Poetry: "Jack Ross writes poetry like an inquisitive magpie, a scholar, a linguist and a hot-air balloonist ... The end result, in contrast to some experimental work, promotes heart as much as it does cerebral talk."
A Clearer View of the Hinterland is Jack Ross's fifth full-length poetry collection, and his most substantial to date. It reprints four complete poetry chapbooks, as well as including extracts from numerous others. The poems on offer here include love lyrics, experimental texts, and translations from a variety of languages.
Further notes and bibliographical details about the book can be found on Jack's Blog
Comments on Jack Ross's poetry
Celanie: Poems & Drawings after Paul Celan (2012)
Celanie ... contains 90 "gem-like" poems by the Romanian-born Jewish poet and World War II Nazi labour-camp survivor, translated from German and French into English. The book of poems includes two portfolios of drawings by Auckland artist Emma Smith. It was the word 'Celanie', the description Celan himself used for the little set of Parisian streets and suburbs which constituted the heart of his world-in-exile, that inspired them. - Jennifer Little, Massey News
It's hard to imagine a writer better equipped to give context through paratext than Ross, for whom form and format are always expressive.. - Jen Crawford, brief
To Terezín (2007)
I think you may look back on it in twenty years and not feel dissatisfied with it. - Scott Hamilton, Reading the Maps
To Terezín is an entrancing model of how travel writing can encompass a range of genres - essay, verse, images - as well as wider themes of ethics, philosophy, literature, art and history - Jennifer Little, Massey News
Chantal's Book (2002)
He is a literary magpie, gathering together his shiny objects with a remarkable eclecticism ... - James Norcliffe, New Zealand Books
Thought-provoking and challenging, a tantalizing maze, clashing ideas and images, mixing old and new forms, with wit, candour and self-mockery. - Harvey McQueen, JAAM
Chantal the pretty, but an enigma. ... Chantal, the image of eternity and universality. ... Chantal moves amongst history, timeless. ... Oh, Chantal is a heavenly creature. - Trevor Reeves, Southern Ocean Review
City of Strange Brunettes (1998)
It's almost as if Pope and Tom Eliot had collaborated. - Richard Taylor, The Pander
... a very original work locked in the strangeness of Auckland. - Hamish Wyeth, Otago Daily Times