The First Wellington International Poetry Festival Anthology
edited by Mark Pirie, Ron Riddell and Saray Torres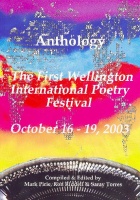 During October, the first Wellington International Poetry Festival took place. It was centred on the theme of peace and reconciliation and featured 35 poets from 18 different countries. This is the official festival publication and features poems by leading world and local poets such as Charles Juliet (France), Albert Wendt (Samoa/New Zealand), Jean Mason (Cook Islands), Basim Furat (Iraq), M. Turkay Ilicak (Turkey) and the Festival Patron, Alistair Te Ariki Campbell.