Unmanned
by Stephen Oliver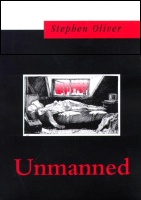 Unmanned is a work of precisely focused, resonate poems and 'portraits' characterised by a strong and diverse gathering of themes. With its forthright vision and robust language, Unmanned marks an assured and uniquely structured progression, evolved through and set forth in earlier collections.
Guardians, Not Angels, Hazard Press, Christchurch/Melbourne, 1993:

'There is something spacey, pithy, philosophic in his writing. He has a Citizen of the World air whose work suggests a transtasman literature is about to happen.' - James Tulip, Associate Professor, English Department, University of Sydney.
'... he conjures a precinct where the human soul ... attains a simplicity and purity that is lost in art or structures obsessed with self-importance or definition.' - Bill Direen, The New Zealand Listener.
Islands of Wilderness - A Romance, Penguin Books, Australia, 1996:

'A poet of great nuance.' - Peter Goldsworthy, The Australian Book Review.
'A wry intellectualism and an almost scientific objectivity which are characteristic of the poet's maturity ... it becomes possible to appreciate the strength and originality of Oliver's thought and feeling' - Alistair Paterson, Poetry NZ.