Suchness: zen poetry and prose
by Richard von Sturmer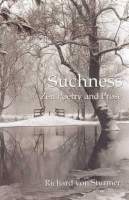 Suchness is Richard von Sturmer's third book to be published in New Zealand. It presents a major collection of work spanning the last decade of his writing life. Haiku notebooks and imagistic poems underlying his Zen teachings produce striking poems of power and grace. Lyrically spare, they form meditations on the world and life. Also included are essays and prose poems further exemplifying the skill and craft of one of our leading poets.