Storyteller: Poems 1988-1999
by Simon Williamson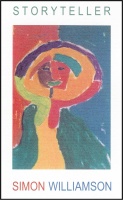 Storyteller is a commemorative volume of work by a young Wellington poet who died early at 31 and who was well known at pubs and local reading areas for his lively performances.
The poems collected here reveal a prolific and widely read writer, wide-ranging in his subjects - love, death, people, places, history, religion and politics - and who often told his stories by incorporating Maori mythology with contemporary living in a free market society. As well, the book forms a moving narrative of the development of a young man's mind towards spiritual peace.
The book has been edited by Mark Pirie, himself a poet and critic, with selection assistance from Simon's friend and fellow poet, Nick Laing.
An introduction by well-known writer, Apirana Taylor, is also included.
'Thought provoking ... a sobering look at New Zealand society...' - PSA Journal