Paneta Street
by Michael O'Leary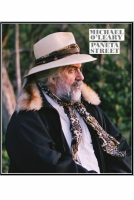 Taking Bob Dylan's 1975 album Desire as its creative starting point, Michael O'Leary's book contains a mix of new and earlier hard-to-find poems.
The first section 'Livin' ina Aucklan'' contains most of O'Leary's (now out-of-print) poems from his early Auckland days in the 1980s. The second section then moves on to Dunedin (where O'Leary lived for a decade) before finishing up in Wellington (O'Leary's current location).
Throughout the journey O'Leary's book includes some moving tributes to dead friends such as Hone Tuwhare, Victor O'Leary and Nigel Cox.
There is also a song lyric tribute to the old Hotel Paekakariki, which is based on The Eagle's classic track 'Hotel California'.
Written in a wide range of styles and forms there is something here to delight everyone.
The cover photo taken by renowned Wellington photographer, John Girdlestone, is after Bob Dylan's album cover for Desire, and is a continuation of a comic series (done in tandem with Wellington poet and publisher Mark Pirie) of album cover remakes (which was featured this year in a one-page spread in The Dominion Post).