On Edge
by Damian Ruth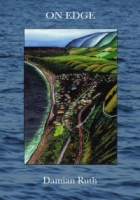 On Edge is a collection of poems by a respected Wellington poet, who has been writing for many years. The poems are drawn from published material in highly regarded journals and from unpublished works. The book gives a marker of Damian Ruth's distinctive poetic in the New Zealand literary landscape. These are resonant poems of travelling, of experience, of family, and of living by the ocean, always bristling with connections that stay on edge.
"At times expansive and lyrical, at others epigrammatic, Damian Ruth's moving and diverse poems explore the emotional violence of geography, rejecting the smooth abstraction of the mapmakers for the visceral terrain of experience. These poems travel broadly—South Africa, Europe, New Zealand—and always with a concern for things, for the reality of the edges and borders that separate us from those we love, perhaps most so those closest by. But these carefully-wrought poems chart most fully and generously—with wit, longing and insight—the strange, challenging topography of the self, one this poet suggests is worth accepting for all of its 'cliffs collapsing and ravenous waves.'" - Bryan Walpert
This title is also available from Lulu in paperback and eBook (see the HeadworX Shop).
Cover image: Painting of the Kapiti Coast by David Waldrom