Nothing to Declare
by Harry Ricketts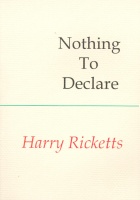 Nothing to Declare is a selection of work, spanning twenty years, by Wellington writer and academic, Harry Ricketts.
It shows a variety of styles and voices - often witty and satirical - at times lyrically spare, it represents a writer of increasing distinction, in control of both his form and technique. The book includes several short stories written during the author's time spent in Hong Kong in the 70s, an auto-biographical essay 'Reading Between the Lines' which was first published in Louis Johnson's Antipodes New Writing, plus A Brief History of New Zealand Literature, an outstanding limerick sequence, which pokes fun at New Zealand authors and their work.
It is hoped this book will recognise Ricketts' status as an emerging New Zealand writer, and display the development of his writing over the past twenty years.
'Nothing to Declare offers an excellent overview of his work and highlights the place that Ricketts is creating for himself as a writer.' - Mary Macpherson, New Zealand Books
'It should establish Ricketts as a must for future anthologies of New Zealand poetry.' - John O'Connor, JAAM