King Willow: Selected Poems
by Robert J Pope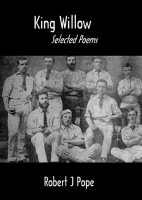 Robert J Pope (1865-1949) was a well-known Wellington poet, cricketer and songwriter in his day - and till the end of the 1940s he held a reputation as a national songwriter for his school song 'New Zealand, My Homeland' - but today, his work is little known and out of print.
Pope's poetry, lyrically gifted, showed musical flair and easy felicity of rhyme. He began writing and publishing in earnest during the Edwardian era, and his work notably covers the two world wars and the national politics of the period, 1902-1944.
His most interesting work concerns sporting verse on the 1924/25 All Blacks "Invincibles" tour of Great Britain and France and suburban satires on Wellington city-life. Pope was a leading light verse parodist of his day, publishing mainly in the Free Lance and The Evening Post, and was a precursor to the 'Wellington group' of the 1950s.
This selection gives a substantial picture of the man and his times and restores a significant New Zealand poet. Previously uncollected and unpublished poems and music scores accompany selections from Pope's two published books. An appendix includes a selection of his prose writings, including his Wellington club cricket essay and sporting 'contorts and retorts'.
"This selection of Robert J Pope not only 'gives a substantial picture of the man and his times', it gives a significant New Zealand poet the recognition he should have always had." - Alistair Paterson, Editor of Poetry NZ
Cover image: Pearce Cup winning Star Club 1883/84 season.