JAAM 21 "Greatest Hits", An Anthology of Writing 1984-2004
edited by Mark Pirie and Michael O'Leary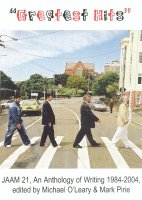 Since the 1980s and 1990s the small press Earl of Seacliff Art Workshop and the literary magazine JAAM and its offshoot publishing arm, HeadworX, have made a unique and significant contribution to New Zealand writing. This 'special 21st birthday issue' of JAAM offers a retrospective showcase of some of the local and overseas writing that has helped reshape and reinvigorate the local literary scene over the last two decades. In doing so, the issue emphasizes the connection JAAM and the two small presses have made between popular music and literary culture in New Zealand.
The book contains 104 contributors from 100 publications, including Sam Hunt, Fleur Adcock, Albert Wendt, Hone Tuwhare, Jenny Bornholdt, Lauris Edmond and Fiona Kidman.