My Iron Spine
by Helen Rickerby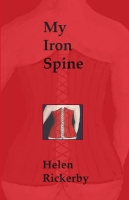 The things that give us strength are often the same things that suffocate or cage us.
Empress Elisabeth's iron spine was her corset, tightly laced, constricting her but giving her backbone. Reclusive poet Emily Dickinson found caged comfort in her room. Ada Byron's mother tried corseting her with numbers, to counteract the madness she may have inherited from her father.
Other characters in the poems of Helen Rickerby's new collection My Iron Spine, including the poet herself, find 'iron spines' in family, love, society, isolation, religion, knowledge and radiation.
The first section weaves an autobiographical narrative, while the second exquisitely brings to life the stories and voices of women from history. The two combine in the final section, where the poet sunbathes with Joan of Arc, goes swimming with Virginia Woolf and parties with Katherine Mansfield.
The poems in this original and playful collection resonate and connect with each other, building a coherent whole greater than the sum of its parts.