in vitro
by Laura Solomon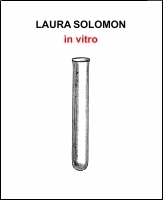 in vitro is the debut collection of poems by well-known New Zealand writer Laura Solomon.
Solomon was one of the stars of the new wave of young New Zealand writers in the 1990s before leaving New Zealand to live in England for a number of years. She returned to New Zealand in 2007 and currently lives in Nelson.
in vitro presents fresh poems on a wide variety of subjects from in vitro experiments, vampire bats, Janet Frame and earthquakes to Pythia getting the blues and Guy Fawkes giving his sincerest apology.
Solomon is one of our most gifted writers.
"Witty, clear-edged, both lemon-sharp and seductive, Laura Solomon is a writer to watch." - Maggie Gee, Chair of the Royal Society of Literature