How to Occupy Ourselves
by David Howard & Fiona Pardington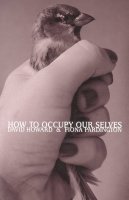 These eighteen sophisticated poems and seventeen precocious duotone photographs suggest that art is an inscription of (and on) the flesh. Under duress a party girl offers herself; while crossing a bridge a child fears sniper-fire; an orphan mourns for his (or her) rumoured origin. With the eroticism of an ascetic this collection searches for a past which was never present; a past where someone other than the victim mediates between the profane and the sacred.