Here and There: A Selection
by Basim Furat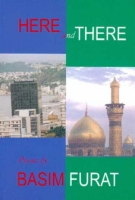 Basim Furat is an exciting new voice in New Zealand and world poetry. In Here and There his first book to be translated into English, Furat explores his life as a refugee 'in the far away' (New Zealand) and his displacement from his homeland, Iraq.
His book is filled with 'a passion for cooing' and memories: his childhood in Iraq, the early death of his father, and his service in the Iraqi army.
Here and There is a moving account of the struggles afflicting those who live in exile.
"In Here and There, Basim Furat has found his untrodden path to the outstanding panorama of exiled Iraqi poetry. He 'Got sick of wars, and found comfort in the shade of exile', but that sense of imagined or temporary peace of mind will give way, in no time, to the permanent questions of what is essential: one's destiny, as an individual and citizen." - Saadi Yousef, London 11.08.04
"Basim Furat writes to us from 'outside the borders of home,' bringing into New Zealand poetry the memories of Arabian jasmine, peacocks, doves and nightingales, the sighs of date palms, the revelation of oranges, 'dreams growing on the balconies,' as well as warplanes and trenches, insults and sanctions, the details of barracks, the nightly password, 'the smell of bombardment in the corridors of [his] life.' Writing, as he says, 'embraced by / a sky that doesn't belong to me,' we are lucky that he is publishing his poetry for New Zealand to embrace, poetry which now belongs to us as well." - Anna Jackson