Goya Rules
by Harvey McQueen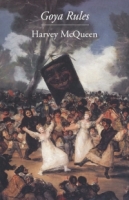 Goya Rules, Harvey McQueen's seventh book of poems, follows his well-received collection, Recessional (HeadworX, 2004). McQueen's ability to forge poetry from everyday events and domestic life, with a sharp eye for the observation of the natural world, again comes to the fore in this substantial new collection.
McQueen writes with humour and with committed involvement in his life and times. His poems, as individual entries on his life and the world around him, form a powerful whole and illustrate his distinct voice in New Zealand poetry.
'This new collection continues to engage with a world that variously is puzzling, disturbing, yet how rewarding, day by day ... These are poems in the long and admirable tradition of the humanist belief that to face the facts, to find the language for speaking of them, is also to live alertly, kindly, attentive to what the day is and what it brings. For that is what this collection adds up to. It is an unashamed declaration to a world that gives much, that expects much, and poetry is the way to say so.' - Vincent O'Sullivan, from the Foreword
Goya's painting 'Burial of the Sardine', 1812-1819, used with permission of Real Academia de Belles Artes de San Fernando, Madrid, Spain.