Fallen Grace
by MaryJane Thomson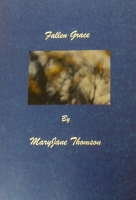 Fallen Grace is the debut collection of poems by Wellington writer and artist MaryJane Thomson.
The book comprises a sequence of 24 poems selected and arranged by Wellington editor Mark Pirie. These form a selection of her latest poems.
The poems, thought provoking and powerful, bristle with energy and evocative lines, richly layered. Thomson works by the process of thought construction, often using opposite images juxtaposed to build her poems. She offers an original insight in to society.
The book is hand-sewn in a limited edition of 100 copies.
Comment on Fallen Grace:
"And then suddenly, something very different to what you might have expected, is sent in the mail, and you're caught unaware by what you might call the music of the street - a voice looking for a lost self, trying to make sense of the world - personally and politically. A questioning voice that feels marginalized and frequently alienated from much of the material world as we know it, but not necessarily wanting company either. It's a voice looking for direction, wanting freedom from restraint, yet resorting (at times) to rhyme - wanting to hold on to the familiar without being enslaved. It's an agitated voice, restless, anxious about conformity, about being 'swallowed' into commonality. Sometimes a sense of panic pervades, fear of being self-centered, 'looking out from within ... / your brain the flame' but in the end, the influence that operates is grace - 'the gold in the grey is hopeful' and 'the light comes in'." - Riemke Ensing
The Night Press is a division/imprint of HeadworX Publishers and publishes the poetry journal broadsheet and occasional chapbooks/mini books.