Collected Poems 1981-2016
by Michael O'Leary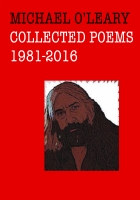 Collected Poems 1981-2016 is a thirty-five year retrospective from an important Irish-Māori influenced writer. It offers the most complete view so far of O'Leary's remarkable literary achievement and offers a body of original and significant work that continues to grow in stature and regard in Aotearoa-New Zealand and world literature.
"...a powerful writer who never falls into mediocrity and consistently shows a strain of genius." - F. W. N. Wright
"There is raw vigour infusing these poems." - New Zealand Herald
"Irishness, Māoritanga, proudly held working-class values, rock 'n' roll, buses, trains, ferries, Baudelaire - you'll find them all in this book... There's an inextinguishable joyousness at the heart of [O'Leary's] work that makes reading him an upbeat and uplifting experience." - Iain Sharp, from the Introduction
This title is also available from Lulu in hardcover (see the HeadworX Shop).