Aspects of Reality
by John O'Connor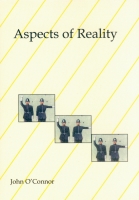 Aspects of Reality often challenges our expectations of language/reality, to the point of surrealism.
A surrealism that often notes the difference between the tired, unresponsive LANGUAGE of our time and the closer-to-the-source LANGUAGE in which the world lives.
A book that is full of people and things. A book that sets its own standard of what lives through its aspects of perception.
Aspects of Reality is the 10th book of poems by John O'Connor.
Recent critical comments on John O'Connor's poetry:
Bright the Harvest Moon
The haiku display his exhilarating sense of language ... all the flash and dazzle of the ephemeral ... haiku that inevitably feel stylish, timeless, and marked by a precise lyrical grace. His is a highly speculative poetic intelligence, both philosophically elegant and lyrically charged. A collection to delight every reader. Patricia Prime, Another Lost Shark
A collection of poems that is fresh and lively, thoughtful and resonant. Sandra Simpson, Haiku NewZ
Cornelius & Co: Collected Working-Class Verse
The recent release of two magnificent retrospective volumes [by David Mitchell and John O'Connor] ... Here are two eminent New Zealand poets ... Small details, but rich in texture, colour and life, a statement which can be applied to all the poems in this collection. Siobhan Harvey, Poetry NZ
'Stan Muttering to himself' - possibly the most powerful poem I've read all year. A terrific book of poetry - Keith Nunes, a fine line
The tension [between verse and poetry] provides much of the energy crackling in these poems ... there is a fierce and committed intelligence invested in them. These poems often remind me of Oppen's concern to get at things, and to the workers and makers of things. - Robert McLean, The Landfall Review
A vividly drawn and fascinating panorama of images that often brings the neighbourhood [of Addington, Christchurch, N.Z.] vibrantly to life with all its noise and drama. Joy Green, Bravado
This book is very local, yet somehow it captures part of the universal. - Jim Consedine, The Common Good
An excellent book that gives poetic voice to people and lives which rarely make an appearance in modern New Zealand poetry. Tim Jones, Books in the Trees blog