All Blacks' Kitchen Gardens
by Tim Jones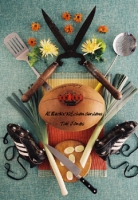 All Blacks' Kitchen Gardens is Tim Jones' second collection of poetry from HeadworX, following Boat People in 2002. It includes his poem "The Translator", which was selected for inclusion in Best New Zealand Poems 2004, and poems which have been published in the Listener, North & South, New Zealand Books, JAAM, and a number of other venues, including US and Australian magazines. The poems in the book range all the way from Southland to Iraq, from a backyard telescope to Mars, from the Rapture to rugby league. Along the way, there's love, sex, children, and Motorhead. These poems are full of surprises. To quote one of them, "Summoning":
You never know.
That is the truth of every incantation.
You never know
what will come to the flame.