Aboriginal to Nowhere
by Brentley Frazer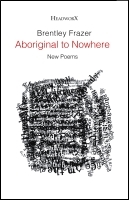 This new collection from a widely admired Australian poet of his generation, combines major new sequences with shorter lyrical, concrete and prose poems, and gives a generational sense of what it means to be an urban Australian looking into the future. A 21st century apocalyptic howl from the cities: Aboriginal to nowhere.
"Described by Dazed & Confused as a 21st Century Baudelaire on acid, Brentley's unconventionality, radicalism, aggression, schizophrenia, non-adaptability and sublimity with hallucinogenic scenes and pornographic moments, a bizarre mix of elements of neo-symbolism and post-romanticism wrapped in a form of hyper-text prose, finds itself somewhere at the intersection of Burroughs, Breton, Rimbaud, Salinger and Ian Curtis." - Tribuna Magazine
"Brentley Frazer's syntax is a live wire running through poems of experience, wild imagination and considered calm. Light the blue touch paper, but do not stand clear. Full immersion is essential." - Anthony Lawrence
"Brentley Frazer's poetry is making it new again and in an exciting way, his lines crackle with the energy of a great technician who has something important to say, this book will make waves and many friends." - Robert Adamson
Brentley Frazer's book will be launched at the Queensland Poetry Festival, August 2016, in Australia.
Cover image: Original concrete poem by Brentley Frazer