Out of It: A Novel Cricket Novel
by Michael O'Leary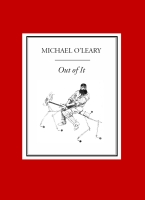 Michael O'Leary's Out of It was first published in 1987.
Since then it has become a New Zealand cult classic and is possibly the only New Zealand literary cricket novel published here.
The novel conjures a surreal cricket game between New Zealand and an invitation Out of It XI at Eden Park, Auckland, in dadaist and modernist prose in the Irish-Maori tradition.
This new 25th anniversary collector's edition, edited by cricket poetry anthologist and poet Mark Pirie, adds amendments to the first edition along with appendices, including a full scorecard of the Out of It innings, notes, an interview with the author and a bibliography of New Zealand cricket fiction and poetry.
25 years on, Out of It, as Pirie writes in the foreword, 'remains a highly imaginative, original and colourful read.'
Cover image: Iain Sharp after an illustration of W G Grace, 1895
'If you are a collector of Bohemian cricket memorabilia, this book is for your shelf. It is certainly a boon to te kirikiti o Aotearoa...' - Rangi Faith
'O'Leary has ... the demeanour of a cricket umpire - when he says it's out then it's out. He can also lob an impressive ball down a pitch as he can play a riff à la Hendrix on any available instrument.' - Gregory O'Brien