Extreme Weather Events
by Tim Jones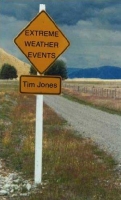 Extreme Weather Events is the debut book of stories by Tim Jones.
The stories in Extreme Weather Events take place in a past just a little different from the one recorded in the history books ('The Pole'), in the corporate present ('Black Box', 'The New Land'), in cyberspace ('The Temple in the Matrix'), and in the future ('The Kiwi Contingent', 'Maria and the Tree'). They find a home somewhere in the uncharted region bounded by science fiction, horror, and magic realism.
These are stories of travel and adventure. They deal with societies and individuals functioning - or failing to function - under extreme conditions. Looking back at the 20th century and forward at the 21st, Extreme Weather Events is a distinctive collection of New Zealand fiction.
"For my money this is the best New Zealand short fiction debut in years. It has plots, its characters face dilemmas, the writing is sure-footed, at once serious, learned and droll. Now this may be due to the fictive landscape - sort of SF, realistic/unrealistic - but genre alone doesn't explain Jones's freshness (for example, Captain Oates appears at the wintering-over station in Antarctica, a vulcanologist has a computer chip implanted in her brain that connects her to Mount Egmont.) It's not perfect, but overall I'm reminded of Peter Carey's great short stories 'The Fat Man in History'. You must get this." - Tim Wilson, Metro