Tony Chad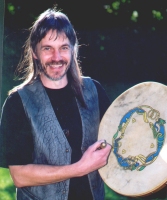 Tony Chad is a poet and musician living in Whiteman's Valley, Upper Hutt, where he endeavours to find the best balance of paid employment, the arts and a subsistence lifestyle. He is the editor of monthly poetry magazine Valley Micropress, helps organise poetry and other Arts events around Upper Hutt and hosts What's On Where on Access Radio, promoting the city.
His CD of original songs Sun Over Kapiti, "a haunting blend of Celtic and New Zealand influences", has sold over 750 copies. However, he is probably best known for performances with his Irish band Finn McCool. They have appeared at Summer City, Toast Martinborough, Orientation, Irish pubs & venues throughout the North Island of New Zealand.
His aim is to spend more time enjoying this beautiful country we live in and actually talking to people he meets along the way. He believes that 'going with the flow' is even more important now than it was 20 years ago - chance meetings often have an important outcome if we allow ourselves to explore different paths.
List of Publications
Poetry
Father & Son (1993)
Tigers Wild Pigs & Possums (1997)
Self-Titled (HeadworX, 2006)
As Editor
All Together Now (2000)
SPIN magazine issues 41 and 44
Valley Micropress monthly magazine (founded November 1997)
Upper Hutt annual Poetry magazine (2001 - 2005)
Music
Sun Over Kapiti (1995, CD / cassette)