Jeanne Bernhardt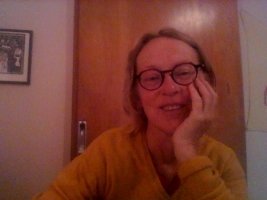 Jeanne Bernhardt (b.1961), a contemporary New Zealand writer, has published seven book of poetry and prose, and has travelled extensively, working both in New Zealand and overseas. In 1997 she was awarded the Louis Johnson New Writer's Bursary from Creative NZ and in 2016 she received the Earl of Seacliff Poetry Prize.
After publishing Vorare Lacuna (1996), baby is this wonderland? (1999) and The Snow Poems/your self of lost ground (2002), she left New Zealand for the United States. She returned to publish a series of well-received books: The Deaf Man's Chorus (poetry, ESAW), Wood (short prose), 26 Poems and Fast Down Turk (a novel), these latter three were with Dean Havard's hand-printed Kilmog Press.
In 2018, Tangerine Press published Bernhardt's hand-bound Silver City and Two More (short stories) in the UK.
List of Publications
Dereliction (Yello, 1996)
Vorare Lacuna (self-published, 1996)
baby is this wonderland? (HeadworX Publishers, 1999)
the snow poems/your self of lost ground (HeadworX Publishers, 2002)
The Deaf Man's Chorus (ESAW, 2006)
Fast Down Turk (Kilmog Press, 2008)
Wood (Kilmog Press, 2009)
26 Poems (Kilmog Press, 2009)
Silver City and Two More (Tangerine Press, 2018)
The Narrator (The Night Press/HeadworX, 2021)